Observing National Children's Sabbath

October 20, 2017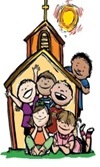 This Sunday, October 22, we will join a multi-faith effort to celebrate National Children's Sabbath, recognizing the gifts that children everywhere bring to our life together.  We will begin the celebration in Watts-Hill Hall at 9:45 a.m. with Intergenerational Sunday School, completing projects to help our friends in Puerto Rico who are still recovering from Hurricane Maria.  All are welcome to come together for some bonding around tables of service.
We currently have 121 infants, children and youth on our rolls at First Presbyterian, which is both a great joy and an awesome responsibility. During worship this Sunday, we will honor our FPC children as worship-leaders and music-makers, and present new Bibles to our 3rd, 4th and 5th graders. At various points during the service, children will be dismissed from worship to work on service projects in Watts-Hill Hall, which will benefit children beyond our walls, most especially those in Puerto Rico, suffering from the recent hurricanes.
In addition, the Christian Education Committee has designed this month "Socktober," and is asking everyone to bring new socks, all sizes, which will be donated to Urban Ministries of Durham. A bin will be available in the foyer through Sunday, October 29 for your donations.
Finally, October 22 is the fourth Sunday of the month, so we will also receive the Hunger for Change Offering during worship. Please give generously!