Young Adult Fellowship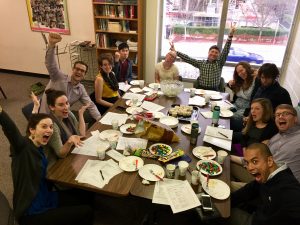 Welcome!
We invite you to join our Young Adult Community at First Presbyterian Church in Durham.
We are a group of young professionals with diverse interests in our mid 20s and 30s who celebrate our faith through fellowship, prayer, and service opportunities in our community.
We  enjoy gathering casually for potluck dinners and other relaxing activities as well as service projects. We also meet on Sunday mornings during the Sunday School hour to discuss a topic of faith. (We pick topics at our annual afternoon retreat in January).  We also occasionally meet up for lunch following worship.
Every Sunday from 9:45-10:45 we meet for Sunday School. Our classroom is located in the basement of the church, in the room across from the youth room. This Spring will be using Podcasts (chosen from sources like This American Life, On Being, and TED) to kickstart our conversations about the intersection of Christianity, the modern world, and faith in general. Carlo Diy will lead our conversations. Feel free to reach out to him at

[email protected]

.
Cherrie's always telling us that it takes something like 28 hours together to feel like you have established a relationship with someone. At our retreat, many people expressed a desire to have deeper relationships with the people we go to church with. Well, here's your chance to show up and start building them!
If you are interested in learning more about who we are and what we believe, please shoot an email to Jenna Kneepkens (

[email protected]

) or Rev. Cherrie Henry.
********************************************************************************************************