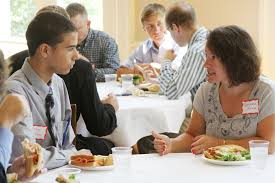 The 3rd Annual Reformed Clergy-Div Student Mentoring Luncheon 
September 15, 2014 from Noon – 1:15pm at First Presbyterian Church-Durham. 
This is a unique opportunity to meet current Presbyterian / Reformed /UCC / RCA divinity students and for them to meet area pastors.  Lunch graciously provided by First Presbyterian Church.  RSVP to Katie Owen by Sept 10 at keo3@duke.edu or 919-438-1541.  
Some of these students are looking for a church home.  Some would cherish the ability to get to know Reformed clergy in the area better and begin a mentoring relationship.  Some are just beginning the ordination process and could use your wisdom.  Perhaps you are looking for a future intern or supply preacher.  Perhaps you're wondering what the future leaders of the church are thinking about as they study and grow in seminary.  Perhaps you'd just like an excuse to see your colleagues in the Durham-Chapel Hill area, to eat and pray together. 
Hope you can make it !