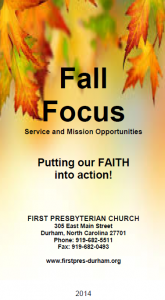 Click here to view service and mission opportunities identified by the Service and Mission Committee for Fall 2014.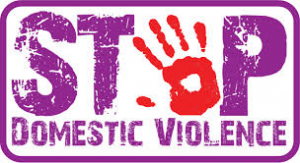 Thursday, October 23
Registration (and Continental Breakfast) 8:30 – 9:00 a.m.
Dialogue 9:00 a.m. – 12 noon
First Presbyterian Church sanctuary
Please join the Durham Crisis Response Center and Legal Aid for an engaging and dynamic Community Summit on domestic violence in our community. The goal for this summit is to humanize the domestic violence victim's experience for the Durham community, its officials, agencies, and first responders, while highlighting areas in which we can improve our collective response to survivors. It is our hope that through a transparent and productive community dialogue, citizens and leaders in Durham can work collaboratively to raise awareness about the realities of domestic violence, improve the victims' experience, and make Durham a safer place for everyone to live.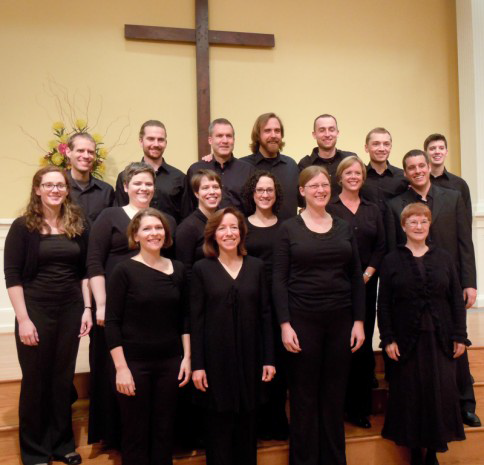 TUESDAY, OCTOBER 28, 2014 at 8:00 P.M.
SONAM (Singers of New and Ancient Music) chorus will present an All-Saints Day concert of comfort and healing in support of Urban Ministries of Durham. The chorus will sing sacred works by Schütz, Howells, Tavener, and the incomparable Requiem Mass of Victoria. The entirety of the $10 donation from this hour-long concert will go towards the work of Urban Ministries of Durham, a local non-profit seeking to provide basic needs for the homeless in our community. Allan Friedman is the director. For more information:

https://www.facebook.com/Sonamchorus/info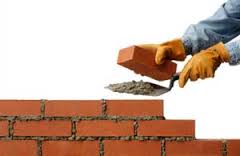 THEME: Building on a Firm Foundation (1 Timothy 6:18-19)
ANNUAL CONGREGATIONAL DINNER
Thursday, November 6
6 PM at St. Philip's Episcopal Parish Hall
411 East Main Street, Durham
STEWARDSHIP WORKSHOP AND CHARLIE BROWN THANKSGIVING DINNER
(for those who can't attend the Congregational Dinner on November 6)
Sunday, November 2
3:00 – 4:30 PM in Watts-Hill Hall
DEDICATION SUNDAY
Sunday, November 9
11:00 AM Worship