Scott Hendrix presents "Reformation Then and Now"

October 24, 2017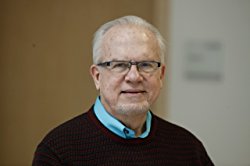 This Sunday, October 29, 2017, Scott H. Hendrix, Professor Emeritus of Reformation History and Theology at Princeton Theological Seminary, will lead the 9:45 a.m. Faith and Community Class at First Presbyterian Church, Durham on Martin Luther and the Reformation. The class will meet in the Watts-Hill Hall.  It was 500 years ago, on October 31, 1517, that German monk and professor, Martin Luther, nailed his now famous 95 theses to the door of the Wittenberg Cathedral in Germany, beginning what came to be known around the world as the Protestant Reformation. 
Hendrix earned a Ph.D. in Reformation studies from Tübingen University in Germany and has chaired the Continuation Committee of the International Congress for Luther Research.  Among his many publications are Martin Luther: Visionary Reformer (2015), Luther (2009) and Martin Luther: A Very Short Introduction (2010).  Yale University Press writes of Hendrix's most recent work,   "the author presents Luther as a man of his time: a highly educated scholar and teacher and a gifted yet flawed human being driven by an optimistic yet ultimately unrealized vision of "true religion".  Relying on the latest research and quoting extensively from Luther's correspondence, Hendrix paints a richly detailed portrait of an extraordinary man who, while devout and courageous, had a dark side as well."
Hendrix lives in Pittsboro(Fearrington Village) with his wife, Emilee.  First Presbyterian is delighted that he will be with us as we observe the 500th anniversary of the Reformation.