Fellowship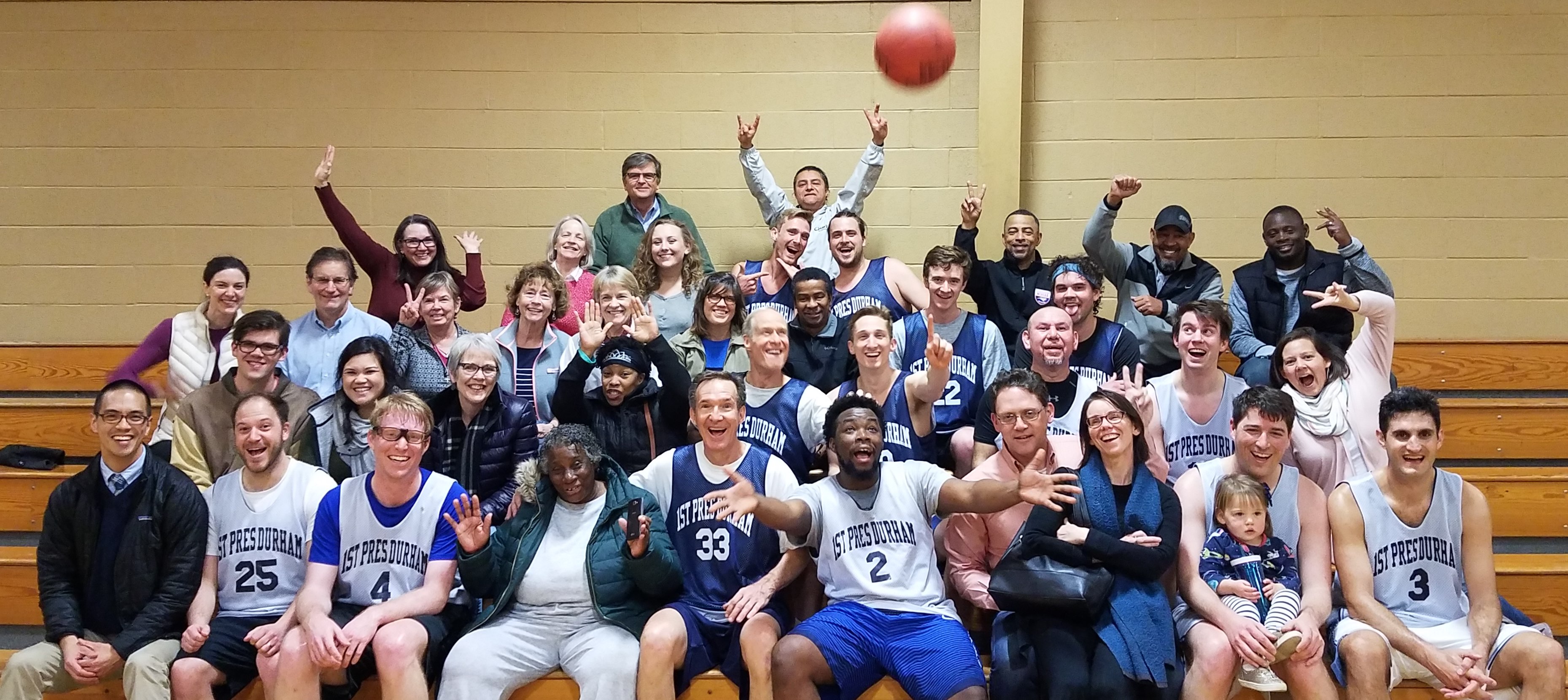 BIBLE STUDY GROUPS
A Group Study meets on Friday mornings from 10:30am – 12 noon at the church.  If interested contact Marilyn Hedgpeth at 919-682-5511.
DAYTIMERS
A group of retired individuals and couples who meet monthly for lunch at a local restaurant for food, fellowship and stimulating conversation.   Participants take turns inviting other members to try their favorite restaurants. For more information contact Maxie Honeycutt at 919-286-4680.
FAMILY MATTERS
This is a group of parents with young children who meet on Sunday mornings during the church school hour for discussions/study of various topics.  Occasional weekend potluck suppers, with children included, are also enjoyed by this group of parents.  For more information contact Kim Abels at 919-493-3546 .
FIRST FRIENDS
Monthly gatherings of adults and families, designed for adults between ages 30-50 (+ or -).  Gatherings alternate between "adults only" and "with children".  Participants gather at a host home for pizza, covered dish suppers and service projects.  First Friends and families enjoy an annual trip to the beach. For further information contact Deborah Momsen-Hudson at 919-732-9595 or Christyn Klinck at 919-402-1951.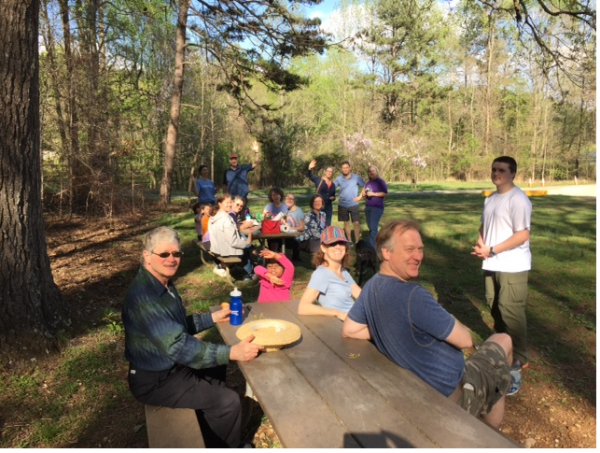 Photo of First Friends members who participated in a spring hike at Oconneechee Mountain State Park  in Hillsborough NC on April 2, 2016.
MEN OF FAITH FELLOWSHIP
This group is open to all men of the church.  Men of Faith meets the 4th Friday of every month for breakfast at Nosh restaurant on Erwin Road. It is an opportunity to enjoy one another, share concerns and participate more fully in the life and ministry of the Church..  For more information contact Sam Miglarese at 919-688-6275.
PRESBYTERIAN WOMEN
This group promotes the fellowship of women of all ages. The women meet for a monthly "circle" Bible study which includes fellowship as well as caring for each other and homebound members.  The circle typically meets on the first Monday of the month at 10:30am -12 noon in the Church House. For more information contact Gwen Cleary at 919-489-7354.
PRIME TIMERS
This is a ubiquitous crowd whose ages are from 50 to?? (but who's counting?)  Most of these folks have children who are long gone from home.  Prime Timers gather approximately six times per year for a covered dish supper in members' homes.  The members are among the first to roll up their sleeves for workdays and special projects around the church. For more information call Shirley Frederick at 919-682-5511.
SCRATCH   / YOUNG ADULT GROUP
SCRATCH is a FPC fellowship community of young adults – single or with life partners, college-aged and older, and in grad school or already working – who wish to engage others in a similar stage of life as they "scratch the faith itch" here at FPC. Scratch meets every Sunday morning during the church school hour (9:45) for a time of discussion and learning together. In addition, the Scratch group meets for monthly potluck dinners/brunches and for other fun activities. For more information contact the Rev. Cheryl Barton Henry at [email protected] or go to the Young Adults/Scratch page.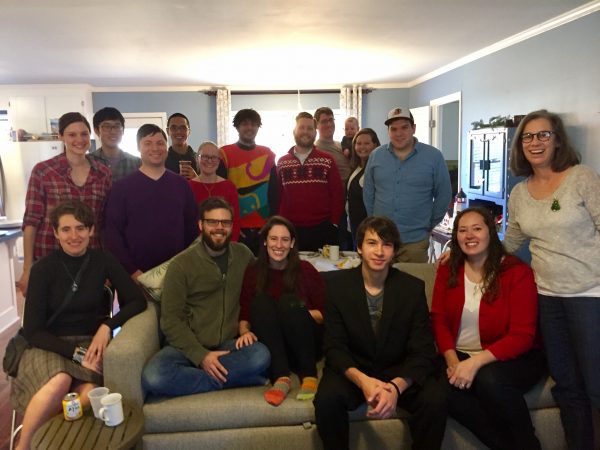 Photo of the young adults together for a Brunch Potluck at Carlo and Emily's home!
SENIORS FELLOWSHIP
Senior members and friends who meet twice yearly for a catered luncheon at the church.  The program following the luncheon varies—a hymn sing, a slide show featuring a member's travels, or a song and dance program by senior performers. For more information contact Susan Dunlap at 919-801-5968 or [email protected].
THINGS THAT MATTER BOOK GROUP
This group usually meets every other month in member's homes and is open to any interested persons who enjoy reading and discussing books.  Books to be discussed are suggested by members of the group.  If interested contact either Lee Courtland (919-682-3461) or Dale Gaddis (919-687-4324).
YOUTH GROUPS
Open to all 6th-12th graders.  The youth groups meet on Sunday evenings from 5:00-8:00pm.  6th –8th graders meet from 5:00 -6:00 for activities.  At 6:00 all youth enjoy dinner together provided by church families.  Beginning at 6:30 until 8:00pm the 9th – 12th graders have their meeting.  The four 'tenets' of the FPC youth group are; Mission, Exploration, Worship and Recreation.  As a group we engage in all the tenets over the course of a year.  Summer youth activities include trips to PCUSA conference centers at Montreat and Massanetta. Youth Director Sarah Finbow can be reached at the church at 919-682-5511 ext 213.