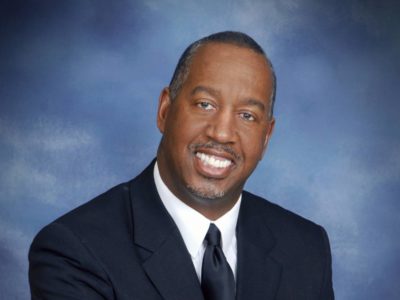 We welcome to the pulpit on Sunday, July 21, the Reverend Jimmie Hawkins.  Hawkins, the former pastor of Covenant Presbyterian Church, Durham, accepted the call to serve as the new director of the PC(USA) Office of Public Witness to Washington, D. C. office in January 2017.  He has a background in the area of youth ministry, having served as program director of Presbyterian Camps in North Carolina and Virginia.  He has pastored congregations in the New Hope Presbytery and Peaks Presbytery. Hawkins is committed to ecumenical relations and has advocated on issues of social justice before congressional and state legislative leadership. His board participation includes Union Presbyterian Seminary, Church World Service, and National Council of Churches.  Prior to moving to Washington, he provided leadership to the Moral Monday Movement and the North Carolina NAACP. He is known as a strong advocate for justice and for speaking truth to power wherever he serves. In addition to preaching for us on July 21, he will also lead a discussion on chapters 9 and 10 of "Just Mercy" in the Faith and Community Class at 9:45.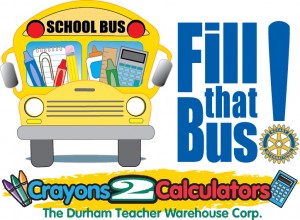 For several years now, First Presbyterian Church has participated in the "Fill That Bus" campaign, collecting school supplies for the teachers and students of Durham Public Schools. You are invited to purchase needed school supplies for the Crayons2Calculators organization again this year. The drive begins July 22 and runs through August 17. The list of most needed supplies is provided below.
Thank you for your continued support. You may bring your supplies to the church and place them in the specially marked Crayons2Calculators containers beginning Sunday, July 28.
*** Top Needed School Supplies***
Hand sanitizer
Clip Boards
Tissues
Sharpies
Colored Markers
Scissors (student & adult)
Colored Pencils
No. 2 Pencils
Dry Erase supplies
Mechanical Pencils
Construction Paper
Markers
Tape (clear, masking, duct)
************
Monetary contributions are also accepted to purchase large ticket items like scientific/graphing calculators. Checks should be written to Crayons2Calculators and given to FPC.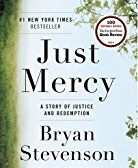 Over the summer, the Faith and Community Sunday School class will be reading and discussing Bryan Stevenson's book, Just Mercy, as part of Pastor Mindy Douglas' sabbatical on "Breaking Down the Dividing Walls: Truth-telling, Reparations, and Racial Equity."  Class discussions will be led by pastors and members of FPC's Racial Equity Task Force. The study will conclude with a panel discussion that will include persons from the community with knowledge of and experience with mass incarceration and the redemptive potential of justice and mercy.  Click here for the study schedule. All are welcome to come to these discussions.
An introduction to Bryan Stevenson, the author of Just Mercy and the Founder/Director of the Equal Justice Initiative, can be found here.
HBO released a documentary about Bryan Stevenson recently. It can be viewed here free of charge for one month.
On July 7th, JaQuan McGhee shared his personal story with the class and showed part of the documentary about his life, Leaving Anacostia. View the entire documentary about JaQuan's life here.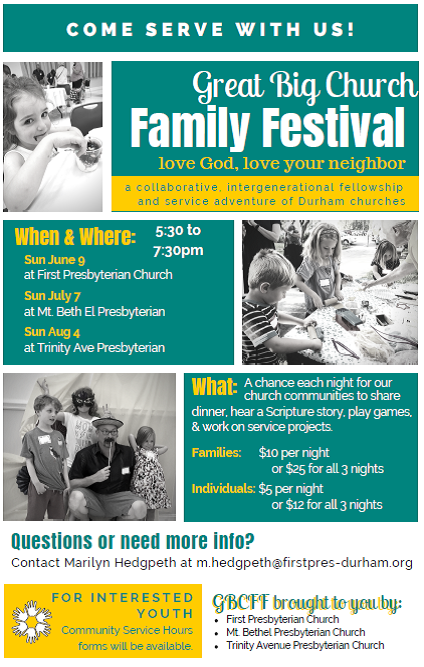 FPC hosted the first night of the Festival. Click on picture to see slideshow
FPC's hosting duties are over, so now it is time for us to return the favor as good guests.  Trinity Avenue Presbyterian Church is hosting the third and final festival night on Sunday, August 4. The cost of the meal is $5 per individual; $10 per family.  If your youth needs summer service hours, they can acquire those by helping prepare for the evening and participating in the event (up to 3 hours of service credit available). So, plan to join us for dinner and service at this final GBCFF. Community Service volunteer forms will be available for youth at registration.  Trinity Avenue Presbyterian is located at 927 W. Trinity Avenue, Durham, NC 27701. For more information, call Trinity Avenue at 919-682-3865.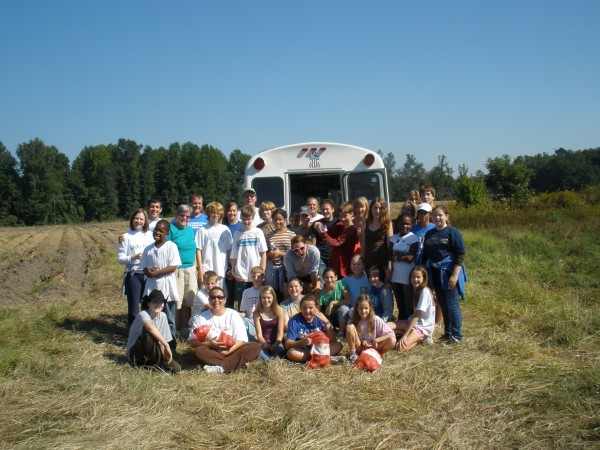 First Presbyterian Church, a member congregation of the Presbyterian Church (USA), is now reviewing applicant resumes for the Associate Pastor for Youth and Their Families position. The position will continue an effective ministry that promotes and nurtures the Christian growth of our diverse and inclusive youth in 6th through 12th grades. Click here to view the Ministry Information Form (MIF).  Resumes or questions may be submitted by email. Only electronic applications will be accepted.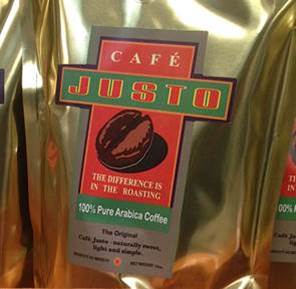 Café Justo – Organic Arabica Coffee for sale in 1-pound bags ($10 per bag).
Café Justo is an outgrowth of a Presbyterian Hunger Program partnership with growers in Salvador Urbina, Chiapas, Mexico, and roasters and packers near the Lily of the Valley Presbyterian Church, in Agua Prieta, Sonora.
Want to place an order for coffee?      PLEASE choose from the following varieties:
caf, whole bean,  medium roast
caf, whole bean, dark roast
caf, ground, medium roast
caf, ground, dark roast
decaf, whole bean, medium roast
decaf, whole bean, dark roast
decaf, ground, medium roast
decaf, ground, dark roast
Tell us how many bags (one-pound bags, freshly roasted, $10 each), and specify the process (CAF or DECAF), the grind (WHOLE BEAN or GROUND), and the roast (MEDIUM or DARK).  Send an email to John ([email protected]), or leave a message at the church office.
Our order is shipped directly from Douglas, Arizona, on the Mexican border.  Except for the shipping cost – about one dollar per bag – all proceeds go to the Café Justo cooperative south of the border.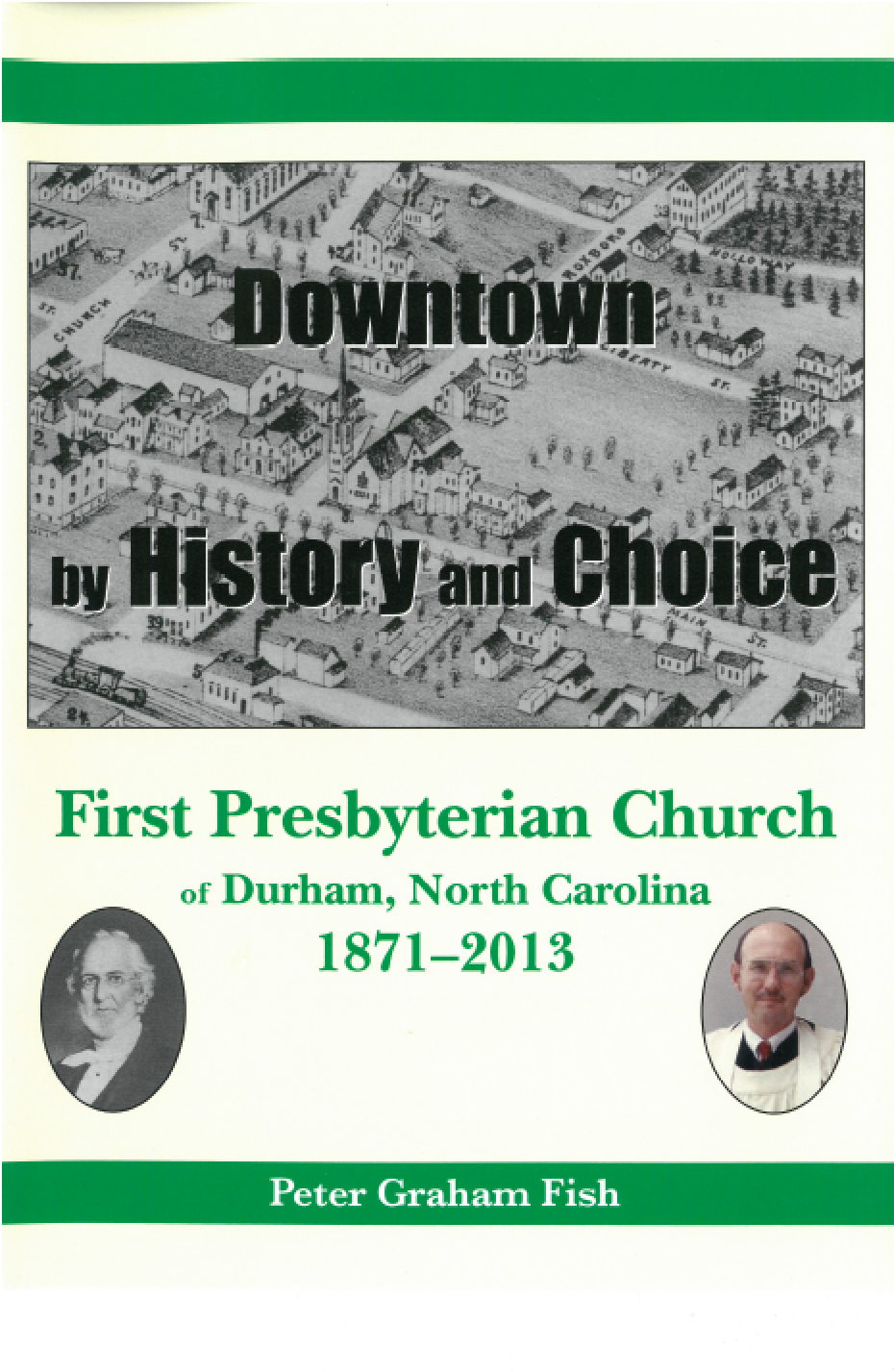 Downtown By History and Choice: First Presbyterian Church of Durham, NC, 1871-2013.  Copies of Peter Fish's book on the history of FPC can be purchased in four ways:  1) – At the church for $25 (make check payable to First Presbyterian Church);  2) – at The Regulator Bookshop ($30);  3) – By Mail Order with discount: Go to the Carolina Academic Press web site (www.cap-press.com); click on "Shopping Cart;" enter title (Downtown by History and Choice); click on "Check Out;" on page 1 of "online Order Form" go to box labelled "Discount Code" and enter FPCBOOK (in caps); make payment including shipping charge and sales tax for N. C. residents. Cost is typically $38.44;  or 4) – Through Amazon.com for $65.00.