Women's Voices Chorus Spring Concert

April 10, 2018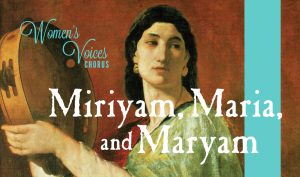 Sunday, May 6, 2018, at 3:00 p.m.
First Presbyterian Church Sanctuary

Choral music on the plight of the refugee and the role of Mary in the Abrahamic faiths with Latin American and Middle Eastern sounds
This concert will feature Artistic Director Allan Friedman's new refugee song, Miriyam, Maria, and Maryam, a dramatic piece written in response to the present reality of millions of displaced people around the globe. Accompanied by guitars, oud, percussion, and interpretive dance, with text from Psalms, Rumi, and Hafez, Friedman imagines three women of different faiths as they are swept up in tragic historical events.
The spring program will also include modern and Renaissance choral works by women on the Virgin Mary; Ariel Ramirez's romping and lively South American folk mass, Misa Criolla; and international songs of peace, including an Iraqi lullaby and a Palestinian-American's song on the longing to be free.
Tickets are $17 for adults and $7 for students. To purchase advance tickets online, please visit our Square store. All tickets purchased online will be available for pickup at the ticket table in the lobby on the day of the concert.