John Weicher called as Associate Pastor for Youth and Their Families

July 27, 2018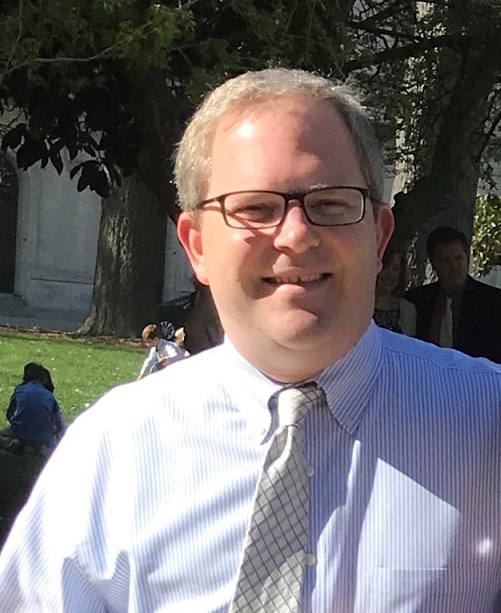 On July 24, 2018, the Session received and approved a report from the Youth Pastor Search Committee recommending Rev. John Weicher as our Temporary Associate Pastor for Youth and Their Families in a one-year renewable contract.
John is a graduate of Princeton University and Columbia Theological Seminary (in Atlanta). He served for twelve years as the Associate Pastor for Christian Education and Youth at Swarthmore Presbyterian Church in Swarthmore, PA. John has directed both the Montreat and Massanetta Youth Conferences and has been a recreation leader at Montreat. He currently serves on the Presbytery of New Hope Youth Council. He lives in Raleigh with his wife Laurie, who is the Associate Pastor at First Presbyterian Church in Raleigh, and their children Tate (7) and Lucy (almost 5!).
The search committee interviewed a number of strong candidates over the summer.  John's passion for youth, inclusion, and social justice matched perfectly with our own. The search committee and the Session voted unanimously to call him to this position and are grateful that the Holy Spirit brought us together.
John will begin on August 1 and will begin getting to know our youth and planning for their time together this fall and winter. We look forward to introducing him to you in person on August 5!
Thank you to the search committee for their continuous and faithful work over the summer. They held listening sessions, worked closely with the Personnel and Budget Committees, advertised the position, interviewed candidates, and prayed together and separately over this decision. They gave much time to this effort and we are grateful for their vision and diligence which brought us to this place. The members of the search committee were: Lenore Champion (chair), Brent Curtis, Griffin Momsen-Hudson, Charlotte Maxwell, Leslie McDow, and Marilyn Hedgpeth (staff).