Uneven Ground Banners Exhibit at FPC

January 09, 2020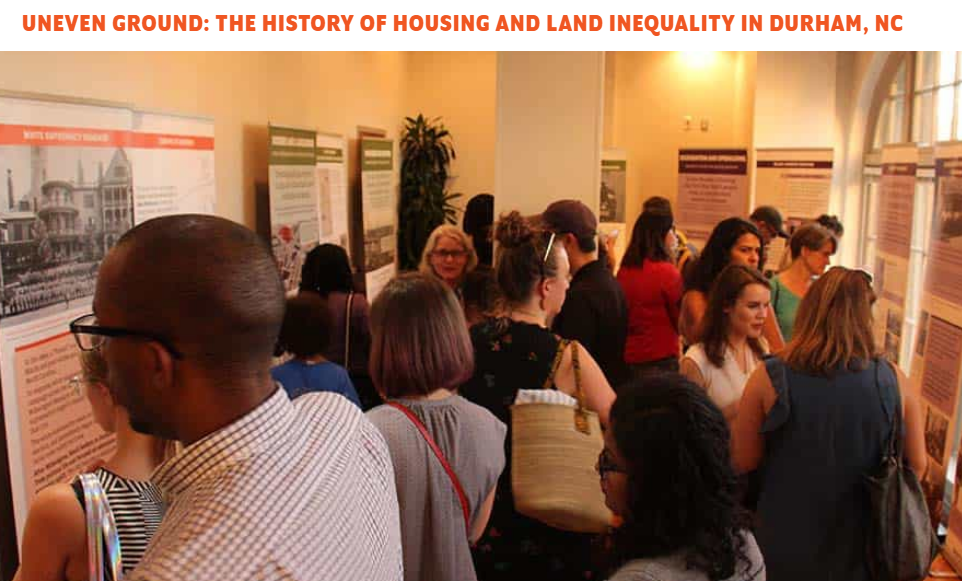 Please come to Watts-Hill Hall (dates below) and explore faith and the history of racism and housing through the Uneven Ground exhibit.
Originally commissioned for the 150th anniversary of Durham as a city, the exhibit is a tool for reflection, learning, and dialogue.
Seeking Justice on Uneven Ground Exhibit display dates: Friday, January 3 – Sunday, February 16, 2020
February 4: Sharing, Naming, and Healing at 6 p.m.; an open house closed by a vigil of Durham residents sharing their own stories of their housing experiences in Durham, community responses, and prayers of lament and hope for communal healing and justice.
Description: In recognition of the image of God in us all, the dignity and sacredness of all life and Christ's command to love one's neighbor as oneself, Seeking Justice on Uneven Ground brings together the history of racism and housing segregation in Durham with the faith-based affordable housing justice work of Duke Chapel and First Presbyterian Church. You are invited to reflect on our city's history, our churches' histories, our faith perspectives, and what affects all of us: housing and racism. First Presbyterian Church has a rich history of housing work in Durham, from collaborating closely with Urban Ministries of Durham, Habitat for Humanity and Housing for New Hope, to being involved in Durham CAN's efforts. Duke University has been involved in land banking, loan trusts, and advocacy for over twenty years. We invite you to delve deeply, prayerfully, and vocally through discussions, panels, vigils, and receptions alongside your neighbors. Website for Uneven Ground/Bull City 150: https://www.bullcity150.org/uneven_ground/