Cafe Justo available at FPC

November 28, 2018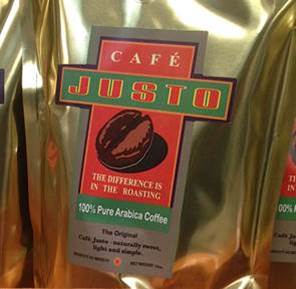 Café Justo – Organic Arabica Coffee for sale in 1-pound bags ($10 per bag).
Café Justo is an outgrowth of a Presbyterian Hunger Program partnership with growers in Salvador Urbina, Chiapas, Mexico, and roasters and packers near the Lily of the Valley Presbyterian Church, in Agua Prieta, Sonora.
Want to place an order for coffee?  PLEASE choose from the following varieties:
medium roast, whole bean
dark roast, whole bean
medium roast, ground
dark roast, ground
decaf, medium roast, whole bean
decaf, dark roast, whole bean
decaf medium roast, ground
decaf dark roast, ground
Specify the grind (GROUND or WHOLE BEAN), the roast (MEDIUM or DARK), and the process (REGULAR or DECAF). Send an email to John Fricks ([email protected]), or leave a message at the church office.
Our order is shipped directly from Douglas, Arizona, on the Mexican border.  Except for the shipping cost – about one dollar per bag – all proceeds go to the Café Justo cooperative south of the border.