MCPHERSON LECTURESHIP – MARCH 26-27, 2023

February 14, 2023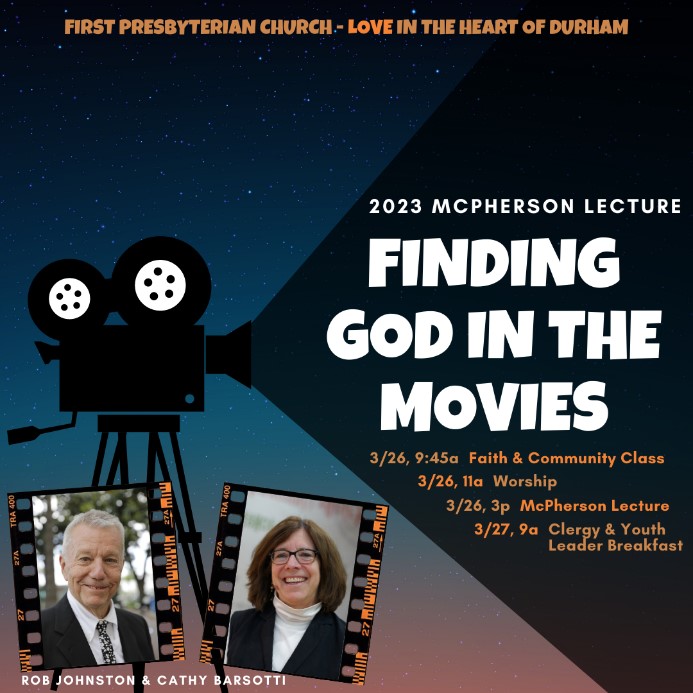 We are excited to announce our 2023 McPherson Lecturers, Drs. Catherine Barsotti and Robert Johnston. Rob and Cathy will join us on March 26 and 27 for several events, all of which are open to the public (see below for dates and times). Their topic for the weekend is "Finding God in the Movies." We invite you to mark your calendars so that you might be able to attend and to share this with your communities so that they might join us as well!
Rob and Cathy have written several books, including God in the Movies: A Guide for Exploring Four Decades of Film, Reel Spirituality: Theology and Film in Dialogue, and God's Wider Presence: Reconsidering General Revelation. They teach at Fuller Theological Seminary in Pasadena, California.
We look forward to having you with us as we learn from Cathy and Rob!
Grateful to be partnering with you in faith, life, and ministry!
Mindy Douglas, pastor
SCHEDULE
Sunday, March 26
3:00-4:30 p.m.
McPherson Lecture
Topic: What do Christians see when they see a film?
Monday, March 27
9:00-10:30 a.m.
Clergy & Youth Leader Breakfast and Training
Topic: God's Wider Presence based on a book that Rob wrote a few years ago, which is rooted in film viewing and how that might be an occasion for people to encounter God. Rob and Cathy will make a Biblical case for the Spirit's revelatory presence outside of the church and without direct reference to Christ. Reservation for breakfast.
Events are free, open to the public and will be held at First Presbyterian Church, Durham NC.